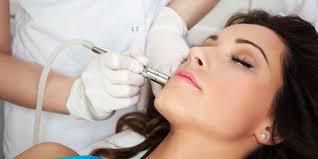 There are several available solutions for acne problems. While most people opt to go with the commercialized products or the natural ways of acne treatment, some are now considering and using laser to treat acne.
If you are one of those individuals who is eyeing for the Laser method, I suggest that you read this thoroughly beforehand to get a better understanding of how a laser works as an acne treatment and its process.
First, bear in mind that Laser treatment is not a cure and not prevention. It is more of a method of controlling acne problem and erasing your acne scars. It is also used in treating the inflammation of your face which often occurs when you are experiencing a breakout.
So how does laser treatment works?
Lasers, or most of them, are designed to penetrate the deeper layers of your skin without causing damage to the outer surface or the epidermis. Its goal is depending on the client's concern, as in our current point the acne treatment.
There are many kinds of lasers, and they are used in different degree of conditions. Blue light, for example, is used in minor to moderate level of inflammation, while Photo-Pneumatic Therapy is used with a more intense light. It also offers a wider range of acne treatment. According to Roger Dobson, lasers that use yellow light targets the bacteria that infects an acne. Some lasers, on the other hand, are believed to be targeting the oil glands of your face, making them secrete less oil.
Second, remember that the results are uncertain. Laser treatment for acne scar removal may not be effective to a particular type of persons. Some skin may not react or respond the way they were planned to react.
Third, there is a possibility of side effects. A lot of news have surfaced about people who experienced side effects after going through laser as an acne treatment. The most common effects are swelling and itching, but in rare cases, some patients even suffered burns and bruises.
Fourth, it is a short and a long-term process.Short term because there is a high chance that the results of the acne treatment would not be extensive. You might want to take this into consideration since this could be a costly option. Long term, on the other hand, since patients who had the taste of relief from acne, would tend to undergo the same process over and over again to maintain their newly found comfort.
These four points are just basic concepts that you can consider in deciding the ideal acne treatment for you. Whether you are planning on going through a laser treatment or not, always remember the cost and benefit principle in your decision-making process. The gains you received should always outweigh the money and time that you spent.
To have a better insight, you should visit a dermatologist to discuss this concern further and in a more detailed manner.It is highly recommended that you consult a professional before making arrangement to lessen the chances of bad decisions.